West Virginia Derby - Recap
Concord Point
Exhi
Nacho Friend
Unplaced horses listed in order of finish.
Also ran: Skipshot, Thiskeyhasnolimit, Not Abroad, Toh's Grey Cat, Shookstown Road, Gunfighter
Concord Point continues to impress me, and I'm a little disappointed that this horse wasn't around for the Triple Crown preps and then the Triple Crown itself. He hasn't really defeated a "major" three year old yet….but that doesn't mean he can't do it….or won't do it soon.
This race played out much like I thought it would – Exhi stayed close to the lead, but was unable to close out Concord Point. One of the things I really like about Concord Point is his ability to grab an early lead – control the final turn – and then he fights for the finish……cause he eats his spinach….he's Concord the Sailor Man??? Where did that come from???
*Incidentally it seems some studio in Hollywood is developing another Popeye movie (2013 - no I'm not kidding)- does anybody care about Popeye anymore - I mean really??? Has everyone forgotten the horror that was Robin William's Popeye - actually he was pretty good, but the movie was beyond horrible.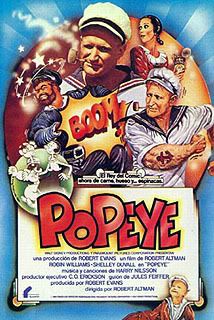 Anyway – I'm very impressed with Concord Point's ability to control his last two outings. Once he's got the lead, no one has been able to take it back from him. I'm very interested in seeing where this horse runs next – and especially who he'll run against.
I had hoped Thiskeyhasnolimit would challenge for the show, but instead he steadily faded behind Nacho Friend and Skipshot.
I was concerned that Gunfighters early speed would wear out Concord Point and Exhi, however it appears that Gunfighter was out of bullets by the sixth furlong.
WV Derby Video to follow:
http://www.youtube.com/watch?v=7aXk81NSMIk&feature=player_embedded
Zenyatta goes for 18th straight victory!
http://www.youtube.com/watch?v=ushkGb9yiIY