Kentucky Derby 2012 – Part II
Who's Yo' Daddy?
In 2012 we lost two great sires – Dynaformer who passed away earlier in the week and A.P. Indy who will no longer sire any more offspring primarily due to his age.
Dynaformer (left) was the father (sire) to 2006 Kentucky Derby champion Barbaro – I believe many horse racing fans had hoped that Dynaformer and mare La Ville Rouge could produce another offspring to fulfill the promise of Barbaro's career before it was ended abruptly when he was injured in the Preakness – and subsequently passed away months later from those injuries.
For those who don't know, the charasmatic Barbaro was undefeated going into the Kentucky Derby that year, he beat the rest of the field in Kentucky by a jaw dropping 8 ½ lengths, nobody was even close – in more ways than one…..and many believe that he was just beginning to fulfill his potential, as he was rumored to be an even better "turf" horse than dirt….and he was already the best three year old dirt horse in the country.
In an odd and sad twist of fate – Dynaformer died on Barbaro's birthday.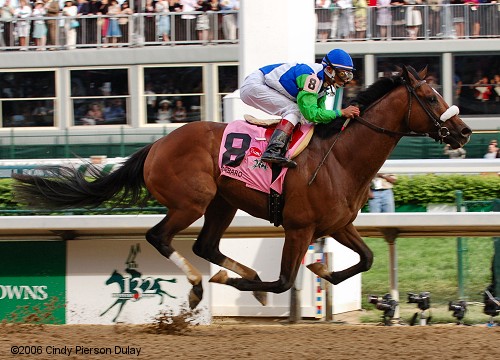 But while Dynaformer is best known for one Kentucky Derby Champion…..A.P Indy is known for numerous Kentucky Derby contenders! Half the field in this year's Kentucky Derby is related to A.P.
As a three year old racehorse A.P. Indy won the Santa Anita Derby, the Belmont Stakes and the Breeder's Cup Classic…..he did all of this in 1992….no you read it correctly 1992!! Since then he's managed to sire a (Seattle) slew of offspring.
It may be helpful to understand that A.P. Indy is the son of Triple Crown Champion Seattle Slew, and the grandson (on his mother's side) to Triple Crown Champion Secretariat – so it comes as no surprise that his breeding is coveted.
For those Zenyatta fans – A.P. Indy sired 2006 Preakness winner (and Zenyatta's baby daddy / foal daddy?? Photo Below) Bernardini.

Bernardini is the sire to Alpha - who will line up this Saturday for the KY Derby.
Bodemeister (another KY Derby contender)– who was sired by Empire Maker (who many thought had a solid chance at a Triple Crown, but only took the Belmont Stakes) is related to both A.P. Indy and Storm Cat on his mother's side. A.P. Indy and Storm Cat also had a part to play in SaberCat running in the 2012 Kentucky Derby.
An interesting side note regarding Empire Maker is that his ownership is having a very difficult time getting him to breed…..because of….well, a lack of interest by Empire Maker?!? Read into that what you want. So sadly the poorly named Empire Maker rarely produces a competing colt – I will add that Bodemeister's mother's name was Untouched Talent…..and you can read into that what you want as to what made her so desirable to Empire Maker. Empire Maker does have two additional fillies entered into the Kentucky Oaks….so maybe he was just being coy.
A.P. Indy is also the grandfather (sire) to these KY Derby Contenders: El Padrino, Prospective, and Optimizer.
A.P. Indy is the great grandfather (sire) too: Rousing Sermon, Liaison and Breeders Cup Juvenile Champion Hansen.
And finally A.P. Indy is the sire (father) to Florida Derby winner Take Charge Indy – who will be ridden by the always dangerous Calvin Borel!
Over the next two years we'll still see A.P. Indy's and Dynaformer's offspring enter into the run for the Triple Crown – and despite the void that will be left when that time is finished, they have helped to produce some amazing animals in the time they were given.
Two horses that are newer to the breeding scene are Scat Daddy and Teuflesberg – who are both horses that I wrote about when they were racing! Both of these horses had a lot of style and a lot of heart – and it has been fun to see their offspring contending for the Triple Crown.
Teuflesberg is the sire to Trinniberg – and I'll just say that Trinniberg has kind of "snuck" into the Kentucky Derby. Trinniberg has never raced more than a mile in his lifetime and may have trouble finishing better than his father did in the 2007 Kentucky Derby (17

th

).
Of course I also thought Scat Daddy (the 2007 Florida Derby winner) would finish much better In the 2007 KY Derby than 18

th

(behind Teuflesberg) so maybe I'm missing how talented Trinniberg may be?!?
Scat Daddy has two offspring entering in this year's KY Derby – UAE Derby Champion Daddy Long Legs and Daddy Nose Best.
It has been unexpected to enjoy watching these younger horses and remembering how well their parents ran before them.
One this is for sure the winner of the 2012 KY Derby will be heavily sought after to produce the next generation of great horses.
Below A.P. Indy wins the 1992 Breeder's Cup Classic -